Why Choose SellMac
SellMac Offers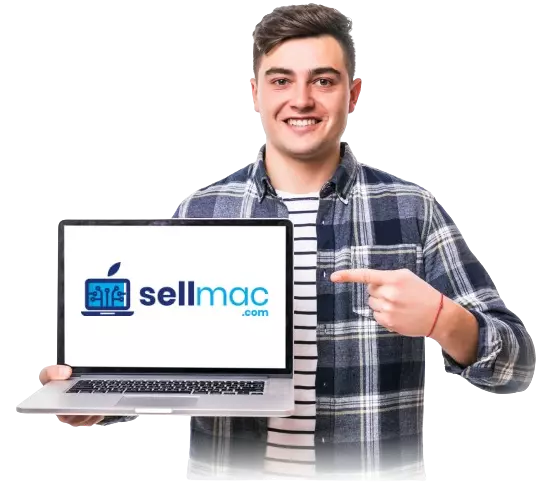 99.9% Customer Satisfaction

Fast Cash: PayPal/Check

Free Return Shipping Label

Secure Data Wipe

Packing Materials Upon Request

30 Day Offer Guarantee
SellMac does not purchase devices that are a part of Apple's DEP program, iCloud locked, under Device Management Software supervision, iCloud locked, locked, or have been reported as stolen. In case the device needs to be returned due to any of the above issues, the seller will be responsible for paying for the shipping return.
Once we receive the device, we factory reset it and erase all the data, thus making sure that your personal data is not compromised.
At SellMac, we understand that you want the best deal for your device. That's why we're dedicated to providing fair and competitive prices for your used device. We match or beat most legitimate competitors' cash offers. Also, avoid paying fees on eBay and PayPal; instead, sell your Mac to SellMac and enjoy the best cash offer out there.

Jana S. Antioch, IL
I sold my computer to SellMac. It was quick and easy. The same day they received it.

Kenny R Los Angeles CA
One word "Excellent!" Don't waste your time looking elsewhere! Excellent!

Lonnie W. Salem IN
They paid me through PayPal. Awesome experience and great customer experience.

Collin S.
SellMac made selling my used MacBook Pro a breeze. I was paid within 3-days. Excellent service!
The Best Way to Sell your Mac for Cash
A Safer Way to Trade in Mac
If you're looking to sell your old Apple Mac Desktop devices, you've found the right place. Gone are the days of terrible trade-in values of the GameStop of yesteryear. SellMac was created as a better way to sell your Mac Desktop while getting paid top dollars.
How it
 

Works

It's easy. Find your Apple device and answer a few quick questions. We will provide an quote of your devices value.
Free Shipping
No need to worry about shipping fees. We provide a prepaid Fedex shipping label for all devices over $1.
Get Paid Fast
We offer multiple ways to get paid fast. Get paid by check, Techable.com Gift Card, Amazon Gift Card, or PayPal.
Where can I sell my Mac for cash?
There are multiple trade-in websites where you can sell your Mac for cash. Take your time to research these websites and ensure that these websites are trustworthy. This can be done by checking Google reviews and reseller ratings. It is also crucial to ensure that the website provides payment via check or PayPal and not solely through a gift card that can only be redeemed at a later time. We at SellMac provide payments via PayPal, checks, and gift cards that can be used to buy anything at a 10% discount.
Can I sell my Mac to Apple?
Yes, you can sell your Mac to Apple. They offer an online estimation tool that lets you see how much your device is worth, and if you accept the offer, you can send your Mac to Apple for free and receive an Apple Store gift card in return. The gift card can be used towards the purchase of a new device, accessories, or other items available in the Apple Store.
But, SellMac is also worth considering. It is a third-party company that specializes in buying used Apple products. Selling your Mac to SellMac may be a better option because they offer more than one payment method besides gift cards, which can be more convenient and flexible for your needs. SellMac also has a reputation for offering competitive prices, so you may be able to get a better deal for your Mac than through Apple's trade-in program. Additionally, SellMac has a fast turnaround time, typically processing payments within 24 hours of receiving your device.
Is SellMac legit?
Yes, SellMac is a legitimate business. One way to check the legitimacy of the business you are dealing with is by checking out their ratings at Better Business Bureau (a.k.a. BBB). You can also check out their ratings on Google, Yelp, and Facebook which show that they can be trusted.
How much can I sell my Mac for?
The amount you can sell your Mac depends on several factors, including the model, age, condition, and configuration of your device. Here are some general guidelines to give you an idea of what your Mac may be worth:
Macs that are newer with higher specs and are in excellent condition generally command a higher price than older, lower-spec models in poor condition.
Apple typically offers trade-in values for their products, so you can check their website to see how much they would pay for your Mac. However, keep in mind that their offers may be lower than what you could get from a third-party buyer like SellMac.
Third-party companies like SellMac offer competitive prices for used Macs. You can get an estimate of your Mac's value by providing information about its condition, model, and configuration on their website.
Overall, the value of your Mac will depend on its specific attributes and market demand at the time you are selling it.
Is it safe to sell my Mac?
The short answer is – Yes, it is!
Are you looking to upgrade your MacBook Pro, MacBook Air, iPad iMac, iMac Pro, Mac Pros, etc, or are you in need of some extra cash? Selling your Mac has never been easier, thanks to SellMac – a trustworthy and reliable business that offers competitive prices for your Macs.
With SellMac, you can get a quote for your device in just a few clicks. Our advanced algorithm takes into account the model, age, condition, and configuration of your device to provide you with an accurate and competitive offer. Plus, we offer multiple payment options, including PayPal, checks, and gift cards that can be used for a 10% discount.
We offer a hassle-free selling experience by providing a prepaid shipping box or a pre-paid shipping label, making the process even more convenient for you. Once we receive your device and verify its condition, you'll receive your payment within 10 business days.
But that's not all – SellMac is committed to protecting your personal data. Before selling your devices, we recommend that you back up your data and erase your hard drive to ensure that your personal information is secure. You can sell your MacBook with confidence, knowing that your data and device are in good hands.
So what are you waiting for? If you're looking to upgrade your device or in need of some extra cash, trust SellMac to provide you with a hassle-free and competitive selling experience. Get a quote now and turn your used and broken Mac into cash!
Are old Macs worth anything?
Yes, old MacBooks can also be worth something, especially if they are in good condition and have desirable features or specifications.
To get an idea of how much an old MacBook is worth, you can check your Mac on SellMac, the process is easy and convenient. Enter the information about your Mac's condition, model, and configuration to get an instant quote. If you like the offer, you have the option to lock in the price for 30 days. You can then ship your Mac to SellMac using our prepaid shipping box or by using your own shipping box and printing a pre-paid shipping label from their website.
Once SellMac receives your Mac and verifies its condition, we will issue your payment within 10 business days. SellMac offers a variety of payment options, including Techable.com gift card, Amazon gift card, PayPal, and check. If they need to revise the price, they'll send you an updated offer via email. If you decline it, they'll send your Mac back to you at no cost.
SellMac's 30-day price lock and hassle-free selling process make them a great option for selling your used Mac Desktop. Their competitive pricing and multiple payment options make them a preferred choice for many sellers, and their positive reputation among customers provides peace of mind that you're dealing with a trustworthy company.
Start Selling your Mac with SellMac